.
.
.
.
In the Western media there is considerable coverage of the divergence of 'al-CIA-duh' and ISIS. But this is all academic, since they have both been spawned and propagated by the same master.....the CIA/Israel.
Arms and weapons going to 'moderate' terrorists end up with ISIS inevitably.
Giving ANY arms to Syrian terrorists, means supporting ISIS.
The evil British empire of the Rothschilds sending military 'advisers' to Syria more or less means guiding ISIS as they retreat from the Russian onslaught....to later become sleeper cells in Europe....and Germany.
Most American Presidents tend to end their term on a positive note of hope and peace for the future, with possibly some sort of International Settlement to takeaway with into their retirement and speech circuit. A sort of repentance of sorts for the sins of their presidency.....but NOT Obummer, the gay CIA groomed Manchurian candidate married to a Transvestite.
The CIA must have utter contempt for the USA to have groomed such an unique creature for Presidency, acting as their mascot......or is it hatred?.....from a population of 310 million containing some able bodied Indo-European men.
Jew envy and inadequacy cannot change this fact.
The Jew submerging and surrounding themselves with inadequate faulty characters of lesbians, gays, transvestites, pedophiles, Christian fundamentalists, Islamic fundamentalists, Buddhist fundamentalists, narco peddlers deviants can't change this fact.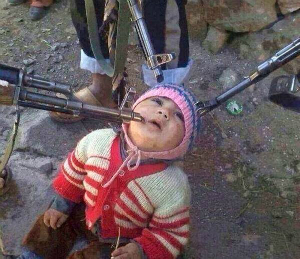 ISIS published image approved by Israel(check it out).
____________________________________________
TREASON: Obama Gives Advanced Arms to Islamic Extremists to Hand Trump a Foreign Policy Headache
And foil a rapprochement with Moscow, and 'rescue' the extremists from the Trumpening