.
.
.
.
The corrupt Kleptocracy of billionaire crook Zardari bhen contemplates yet again opening the USA/NATO supply routes that eventually at the end run of which KILL INNOCENT, GOOD, POOR, PAKISTANIS.
This is done by Zardari without any reasonable quid pro quo from the USA, the main actor in Afghanistan.
No promise to stop drone attacks that kill Pakistani civilians into infinity.
No promise to stop NATO/USA military attacks against Pakistani military posts.
No promise to cease facilitating Afghan based Taliban attacks against Pakistani military posts.
No promise to stop supporting Afghanistan based destabilization programs in Baluchistan, and the NWFP using the TTP, and Baluchistan separatist groups.
No promise to cease propagating the myth and need for Baluchistan independence by USA Capitol Hill funded politicians.
No promise to cease militarizing Pakistani society to the detriment of all else, and of course political stability with civil society.
No promise to totally, and comprehensively withdraw from Afghanistan, beyond 2014.
These simple blogger copy paste points written by a 18 year old student from the UK in 5 fucking minutes without any research seems to miss the President of Pakistan, and Assfuck Kahini his "backseat" driver.
Why do these chamar chamcha coolie chaudis not understand what is good for Pakistan, and what is not so good for Pakistan, as their job description requires them to do?
Why don't these chamar chamcha coolie chaudis not align with the wishes of the overwhelming majority of Pakistanis, and put their faith in the goodness of the common man?
Everybody needs to go to Islamabad and protest against the government PROPERLY, AND COMPREHENSIVELY.
We don't need the 2% popular JUI leading it, or organizing it as patriotic nationalist heroes(with the Punjab military covertly in the back seat, managing all sides, including the medieval Wahabi Deobandi beards).......it must be a peoples protest.
_______________________________
Pakistan FM Denies 'Secret Deal' With US on Supply Route
by Jason Ditz antiwar.com
Yesterday's announcement that Pakistan's government intends to follow through on reopening the border to occupied Afghanistan is not sitting well with large numbers of Pakistani factions, with the Defa-e Pakistan Council (DPC) announcing a "black day" and a weekend protest march against the capital, inviting several religious and political blocs to join in.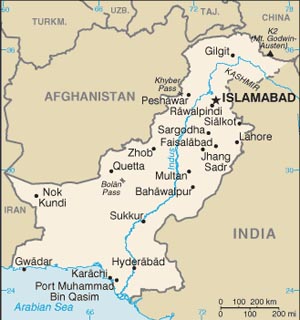 The DPC's leadership announced the protest marches after consultations with the Jamiat-e Ulama-e Islam (JUI), a key religious political party, and issued a statement saying that it was religiously forbidden to allow Pakistani soil to be used to ship supplies to kill Muslims in another country.
Secular political blocs are complaining primarily that the Pakistani government bypassed parliament's demands for both an apology and an end to the drone strikes. Foreign Minister Hina Khar denied that parliament's demands had been deviated from, and likewise rejected claims of a "secret deal" with the Obama Administration.
Despite Khar's comments, there have been no indications that the US intends to stop drone strikes against Pakistan, and indeed the Obama Administration has repeatedly vowed to continue the strikes at all costs. The supply line is expected to reopen on Thursday.