.
.
.
.
Iranian carpets to reconquer US market once sanctions removed
.
By Presstv.com

Iran's hand-woven carpets will once again conquer US markets after sanctions imposed on the Islamic Republic over its peaceful nuclear program are lifted, a new report says.
The report published by the Boston Globe on Tuesday, said "Iran's famed carpet weavers" are "anticipating a boost in [Iran's carpet] exports as sanctions" will be soon lifted in line with an agreement reached between Tehran and six world powers in mid-July.
"The Persian hand-woven carpet is Iran's ambassador. I'm delighted that the ambassador is in the process of resuming work in the US," an Iranian carpet exporter, Jila Rassam Arabzadeh, was quoted by the paper as saying. "The Persian carpet is like the Iranian flag, known all over the world. Let our flag fly."
According to Boston Globe's report, Persian carpets were among Iran's top export commodities that suffered most as a result of sanctions.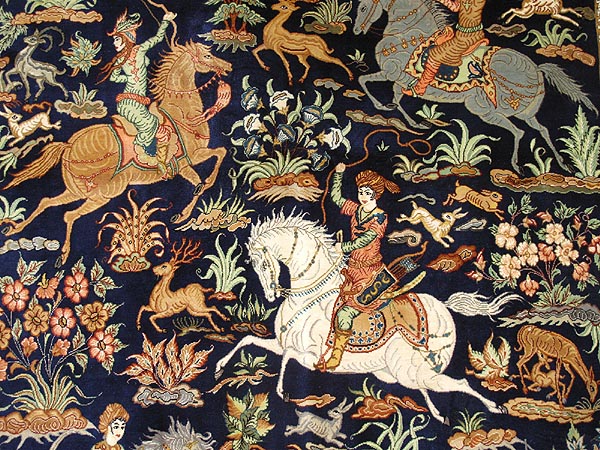 Head of the Iranian National Carpet Center Hamid Kargar told the paper that before sanctions, Iran's hand-woven carpets accounted for about one-fifth of the US market, adding that Iran's carpet producers are already making carpets for the US market, hoping that exports will resume next year.
"People in the carpet business have begun to produce carpets suiting the taste of the American market, receiving orders and negotiating with customers," the Iranian official said.
Kargar added, "Since 2010, we lost one-fifth of our exports because we were deprived of the US market. Our rivals replaced Iran. However, we expect that Americans will welcome Persian carpets again because of its unique designs and colors."
According to the report, Iran exported USD 330 million worth of Persian carpets last year with the figure accounting for two-thirds of the country's carpet production, which now stands at more than 53 million square feet (4.9 square meters) a year.