.
.
.
.
Ajem was recruited by MI-5 in the early 1990's when he was a washed out druggie doing all manner of 'haram' things that people of his background do.
The cartoonish outlandish baiting comments written by MI-5.
As a MI-5 agent provocateur his job is to get TV, and press coverage enabled freely by MI-5 to make sectarian provocative statement to stir the masses into hatred and conflict.
Ajem Choudry before he was recruited by MI-5.
(i) Thus giving the image that Islamo fascists are taking over the UK. Be scared, be very scared.
(ii) New legislation is required to give MI-5 more powers to control the same.
(iii) Recruiting agent for 'al-CIA-duh'/ISIS from impressionable uneducated ghetto kids who are then managed by MI-5.
'Andy' at Southampton university.
The Criminal UK state pours millions of dollars into his Social Security funds, which gives him the means to carry out his agent provocateur work for MI-5.
The UK is a major player in fanning the flames of extremist Islam dating back to the 18th century when it was used as a means of destroying the Ottoman Empire, via aiding Jewish Wahabism from Iraq.
The Criminal UK state Bombs Iraq and Syria.
Time for a Coffee Break and a Kit Kat.
The Criminal UK state via MI-5 funnels gullible unemployed Muslims into the ISIS cauldron in the Middle East.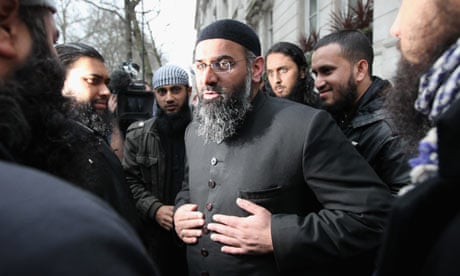 Note the faggot black attire
.
The Criminal UK state trains ISIS fighters in the UK.
The Criminal UK state sends the British armed forces to fight or pretend to fight ISIS in Syria/Iraq.
The Criminal UK state sends British armed forces to fight for ISIS against the regimes in Damascus and Baghdad.
And so there may well be a high profile publicity SHOW TRIAL where Anjem Choudry is set free eventually to carry on his baiting work for MI-5. ________________________________________
Anjem Choudary charged with backing ISIL
British police authorities say Muslim cleric Anjem Choudary has been charged with encouraging support for the ISIL terrorists.
.
According to Scotland Yards, Choudary faces a charge of inviting support for the Takfiri terrorist group through lectures published online.
.
Another Muslim man named Mohammad Rahman faces the similar charge.
"Following an investigation by the Metropolitan police's counter-terrorism command, we have today authorised charges against Anjem Choudary and Mohammed Mizanur Rahman," said Sue Hemming, head of special crime and counter-terrorism at the Crown Prosecution Service.
"We have concluded that there is sufficient evidence and it is in the public interest to prosecute Anjem Choudary and Mohammed Rahman for inviting support for ISIL, a proscribed terrorist organization, between 29 June 2014 and 6 March this year. Each man is charged with one offence contrary to section 12 of the Terrorism Act 2000," she noted.
.
Both men have been in police custody and were due to appear before Westminster Magistrates' Court on Wednesday afternoon.
.
The 48-year-old man has been largely criticized for his extremist views and has received little support from mainstream UK Muslims.
.
A London-based political commentator says the Choudary has nothing to do with Islam as he has already been involved in fueling sectarianism among Muslim groups.
.
"It's nothing new that Anjem Choudary and people like him have been supporting al-Qaeda and ISIL…This guy has no connection to Islam the same way Benjamin Netanyahu has no connection to Judaism…," Shabbir Hassanally told Press TV's UK Desk on Wednesday.