.
.
.
.
He ALONE has exposed the crimes of Hilary
He ALONE has exposed the crimes of the DNC
HE has also exposed the crimes of the USA DEEP STATE.
Julian Assange, the great Aussie, has selflessly promoted the interests of the world, and played a significant TIMELY ROLE in the election of President Donald J Trump.
At a minimum the Trump administration must first through the DOJ, cancel all charges against him and any overt or covert requests for his deportation by the UK Criminal State to the USA as a fugitive, who illegally (according to Obummer law) published USA state secrets.
He MUST be free from his Ecuadorian embassy prison, and allowed to roam free in Leicester Square and the West End as a free man, and further that the USA government will not intern him or imprison him should he travel to other countries where the USA exercises significant COVERT power.....EG Singapore, Indonesia, Taiwan and Thailand on his way to Australia to visit his family and home.
Julian Assange must not be harassed by local overt and covert security forces......especially any dogs working for the CIA.
THIS WOULD BE THE FIRST STEP.
Then when President Trump is politically stronger, give Julian Assange a few years later.......
The Presidential Medal of Freedom

is an award bestowed by the

President of the United States

and is—along with the comparable

Congressional Gold Medal

—the highest

civilian award

of the

United States

. It recognizes those people who have made "an especially meritorious contribution to the security or national interests of the United States, world peace, cultural or other significant public or private endeavors".

[2]

The award is not limited to

U.S. citizens and, while it is a civilian award, it can also be awarded to military

personnel and worn on the

uniform.(WIKIPEDIA)
POLITICAL GRATITUDE IS GOOD........IT PAYS.
JUSTICE IS GOOD.
FAIR PLAY IS GOOD
ENCOURAGING YOUNG MEN AND WOMEN TO DO THE RIGHT MORAL THING FOR THEIR COUNTRY IS GOOD.
__________________________________________
Assange Meets Rep. Rohrabacher, Vows to Prove Leaks Didn't Come From Russia
Congressman Says He'll Brief Trump on Meeting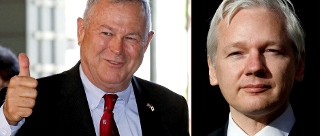 During the meeting, Assange assured Rohrabacher that Russia was not the source of leaks which WikiLeaks published during the 2016 campaign related to the Democratic Party, and he promised specific information would be provided to prove that.
Rep. Rohrabacher is the Chairman of the House Foreign Affairs Committee's Subcommittee on Oversight and Investigations, a position which might be of considerable import amid multiple Congressional investigations into the allegations of Russia being behind the leaks. Assange has long maintained that not only did Russia not provide the leaks, but no state party had done so.
The putative "Russia hacks" have fueled US hostility toward Russia since mid-2016, despite both Russia and WikiLeaks denying that Russia was involved in the leaks, which were seen to politically embarrass Hillary Clinton during last year's campaign, and which some Democrats have alleged were a concerted Russian plot to "get Trump elected."