.
.
.
.
Reform security council to maintain its credibility, PM Modi urges at UN meet
Chidanand Rajghatta and Times of India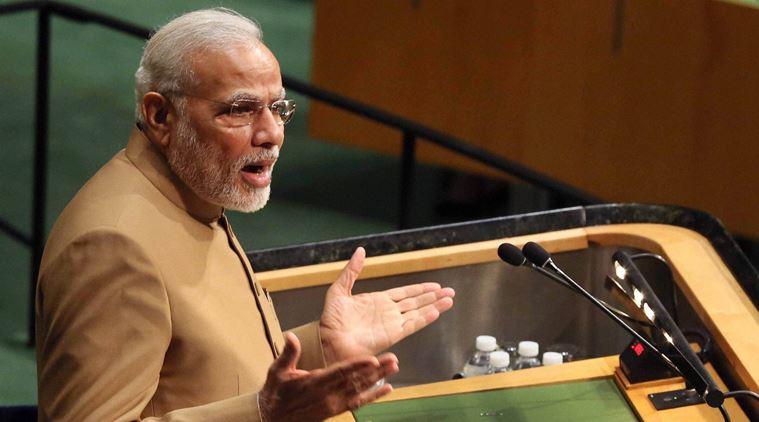 Prime Minister Narendra Modi on Friday pressed hard for India's elevation as a permanent member of the UN security council, suggesting the world body would lack credibility without reforms that gave New Delhi a voice

.

"We must reform the United Nations including its security council so that it carries greater credibility and legitimacy," Modi said at the UN summit discussing a 15-year blueprint to eradicate extreme poverty, tackle inequality and combat climate change.

READ: Top 10 quotes of PM Modi at UN summit

The PM is also trying to revive India's bid for a UNSC seat along with reforms by convening a meet of other aspirants, including Germany and Brazil, on the summit sidelines.

Modi said India's traditions made it consonant with the world's sustainable development goals but the country would yet strive to use modern tools and practices to achieve post-2015 targets. In a nearly 20-minute address at the 70th annual session of the UN, devoted to sustainable development, he spoke in chaste Hindi laced with Sanskrit citations.

He sought to assure the world that New Delhi would not be an outlier or spoiler in the international community's drive to make the world a better place.

ChIndia in US: The trillion dollar trysts

From addressing environmental concerns to alleviating poverty, the Prime Minister acknowledged that India's actions would have consequences for the world, but it would not be found wanting. He identified several of his government's signature projects, from "beti bachao" to skills development, as part of the sustainable development agenda.

"I represent that culture in which the earth is considered to be the mother," Modi told the gathering, exceeding the time limit allotted to him. The chair joked that the Prime Minister had taken an extra minute for every 100 million people of India.