.
.
.
.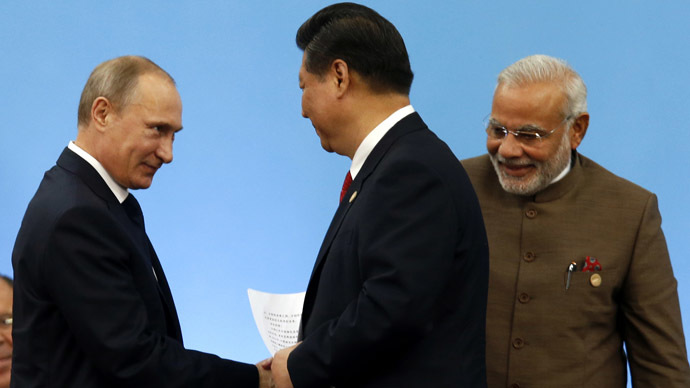 China-India Rapprochement Is Paramount For Russia
..
Russia is friendly to both and would like to see the two put their differences arising from boundary dispute and territorial claims aside to improve the prospects for BRICS and other forms of cooperation
By staff writers of Russia Insider
The visit of the Indian Prime Minister to Beijing could signal a breakthrough in relations with China. While the two countries work closely together on many issues, and are part of the BRICS association, unresolved disputes have meant that the trust between the two countries is not on the highest level.
.
Before his visit to Beijing Prime Minister Modi held a phone conversation with Putin. Russia traditionally has friendly relations with both countries and is expected to balance the ties, but it could also act as a mediator in resolving the conflicts.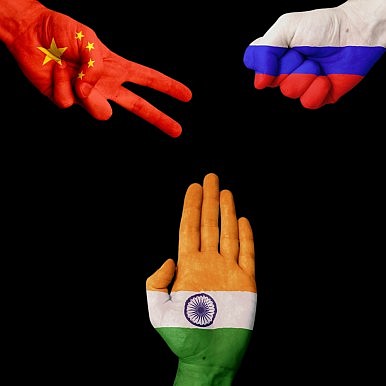 The meeting between leaders of the world's two most populous nations came just days after China's President Xi and his Russian counterpart Vladimir Putin signed a US$25 billion deal to boost Chinese lending to Russian firms and a host of other economic accords.
.
"Prime Minister Modi's visit to Beijing comes on the heels of President Xi Jinping's much-advertised visit to Moscow," said Sergei Strokan, an observer for the Kommersant.
.
"And obviously this is something that gives new intrigue to the upcoming Indo-Chinese summit. Of course in its pivot to Asia policy, which sees Delhi and Beijing and Russia's two pillars of its Asia-Pacific strategy, Moscow has to perform a delicate balancing act while trying not to antagonise each side of this very uneasy triangle."
.
India and China have a complicated history. They went to war in 1962 and the relationship has continued to be uneasy. However, experts said that India has nothing to fear from a Chinese-Russian union.
.
Said Editor-in-Chief of Russia in Global Affairs Fyodor Lukyanov: "It doesn't matter whether the fear of the Indians is realistic or not. The most important thing is that this fear exists and it should be addressed by the Russians and Chinese. Especially by the Russians because we have traditional ties with India – very, very close ones."