.
.
.
.
Mrs Thatcher herself may have been a lesbian who liked groping little girls.....or whether she liked having sex with them is a mute issue.
She was a packaged actress front for the Rothschilds of London, and her manager was Victor Rothschild. When he died in 1990, so did her dictatorship of the pedophiles.(She spent hours and hours with Sir Lawrence Olivier doing the stern killer stare....aka Tony Blair...and deep tranny voice training)
Indeed there was a prominence of Jews in her administration, where Sir Keith Joseph from the shadows designed her policies on behalf of the Rothschilds....introducing some aspects of the Jewish neo-liberal policies from the Chicago school of Economics, otherwise known as Monetarism, AND the shift of the UK economy away from MANUFACTURING......towards a more favorable focus on Jewish global finance centered in The City in London, New York and to a lessor extent Frankfurt.
There was a penchant for a rather nasty collection of Jews in her cabinet with financial irregularity and sexual deviancy backgrounds....from Leon Brittan to Edwina Curry...Norman Tebbitt, Nigel Lawson...and so on.
One is sure there are normal humanistic Jews, of which I myself have come across, but the Rothschilds and the International Jews need these criminal COMPROMISED in many ways amoral weak types to do their bidding. That is why the Rothschilds chose Hitler, and installed Mussolini, Lenin/Stalin, Modi of India and the Young Turks in 1908 in the Ottoman Empire (25% of ethnic Turks died within the Ottoman Empire 1914--1918).
Rothschild puppets always end up hurting the very people whom they are meant to champion in their outlandish OTT way, including vulnerable children from broken dysfunctional homes.
_________________________________________
Ex-activist sheds light on UK child abuse
By Presstv.com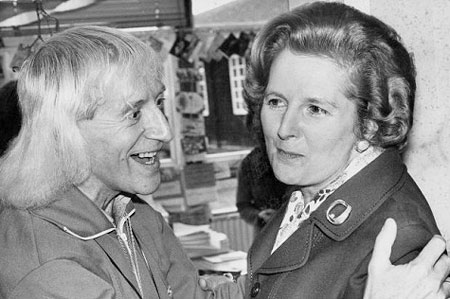 A huge child-sex scandal surrounding the British government has entered a new phase after a former Conservative party activist shed more light on the matter.


Anthony Gilberthorpe said on Sunday he told Margaret Thatcher 25 years ago that he saw top Tory members having sex with underage boys. He said even he provided the then prime minister with names of those involved.
"I am prepared to speak to the inquiry. I believe I am a key witness," said 52-year-old Gilberthorpe.
Gilberthorpe said he was ordered by some of the most senior figures of Thatcher's government to find the boys.

Another whistleblower Peter McKelvie, a former child protection manager, has claimed that at least 20 former MPs, government ministers, judges and other prominent figures abused children for decades.

Rumours of Westminster child abuse have been extant for several decades but resurfaced in 2012 when Labour MP Tom Watson unveiled a comprehensive report produced by McKelvie, who had collected evidence from witnesses and victims over a 20 year period.

Other cases of child sexual abuse have been reported in the country.
Several high-profile
(has been media)
figures have been arrested in connection with the multiple investigations into the abuse scandal surrounding Jimmy Savile, a disgraced former TV host with the state-funded British Broadcasting Corporation (BBC). He died in 2011, but, following his death, hundreds of allegations of sex abuse and rape of minors became public.
_________________________________________________